For Private Transfers, Private Tours, Flights, Resorts, Car Rentals please click the links below:
For photos, information and rates:
Click area on map.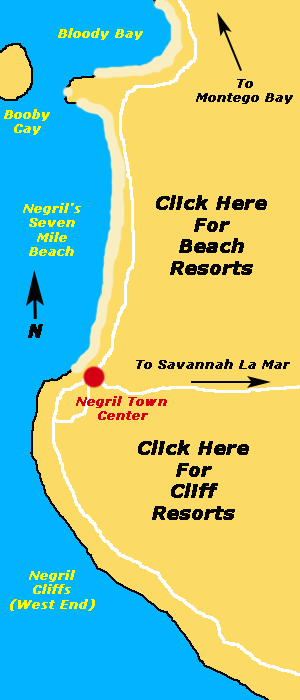 Choose Where You Want to Stay
Beach or Cliffs. No matter your choice, everything will be irie.
Seven miles of powder white sand dotted with hotels, resorts, restaurants, bars and Negril's famous "reggae beach clubs" this is definitely the more active side of Negril.
Spend a week doing nothing but enjoying the beach the sun and the sea or join in the friendly activity offered all along the beach.
Go jogging, shopping, play beach volleyball and try all kinds of water sports in Negril's calm waters.
The choices are endless.
Laid back with it's dramatic black coral cliffs this is the more leisurely side of informal, fun loving Negril. Clear, alluring turquoise water and shallow coral reefs will entice you to get into your snorkeling gear.
Enjoy genuine hospitality in the many hotels, resorts, restaurants and bars featuring spectacular views and unforgettable sunsets.
...and remember, wherever you stay your body will be moving to Jamaica's infectious, pulsing reggae!
back to top
Stay up-to-date with the latest news and specials from Jamaica. Be informed of upcoming events, last minute deals, and featured hotels and tours every month.