To inquire or book call us toll-free at 877-651-7867, or fill out one of the forms below:
For photos, information, and rates,
click on resort name below: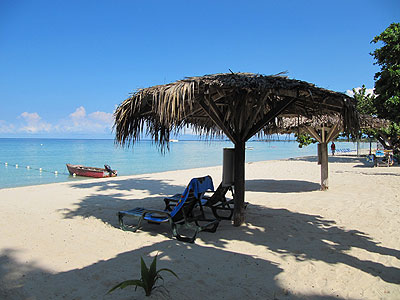 Bar-B-Barn

Rooms, Free Wifi, Breakfast Included, Air Conditioning, In Room Safe, Cable TV, Restaurant, Beach Resorts
Welcome to Bar-B-Barn. Enjoy tropical living, casual comfort and friendly service at this Negril Beach resort/hotel. Friendly beach bar , patio restaurant and Angela's Italian Restaurant ensure a great vacation.
Bar-B-Barn
Resort Amenities
This small family run resort hotel is located on Negril's 7 mile beach within walking distance to many clubs, restaurants and water sports.
Pretty pink buildings are set back from the beach along a fragrant garden path.
Cheerful rooms have Cable TV with remote.
A/C in all rooms, ceiling fans in some.
Free WiFi
Beach towels provided
Safe in rooms available for $3/day with a $50 deposit
Refrigerator available Superior rooms for $10/day paid locally
Superior Room with 2 double beds or queen
Deluxe Room with king bed or 2 double beds and refrigerator
(1) Family unit consisting of 2 adjoining rooms each with king bed + wet bar with sink, coffee maker & refrigerator (no balcony in this unit)
Cots, irons available upon requst free of charge
Each unit has a small balcony with 2 chairs
Complimentary soap provided
Screens on all windows
Friendly Beachfront Bar features tropical favourites - Live music on Tues. night
Meals at the outdoor patio, beachside restaurant or Angela's Italian restaurant offer delicious choices.
Gift Shop featuring unique "Made In Jamaica"gifts and art
Telephone in lobby
Kids 12 and under free with parents.
FULL BREAKFAST INCLUDED IN RATES
Complimentary Drink upon Arrival
Tuesday Night - Great Buffet for $25. US per person and Live Music by the Focus Band (high season only)
Visiting Guests must register at the front desk
Check-In: 2:00 pm / Check-out: 12 noon
back to top