To inquire or book call us toll-free at 877-651-7867, or fill out one of the forms below:
For photos, information, and rates,
click on resort name below: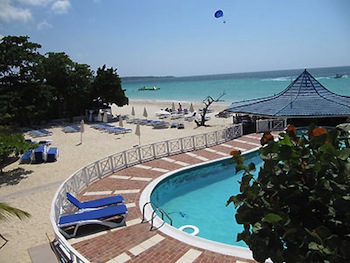 Tree House

Rooms, Suites, Breakfast Included, Free Wifi, Pool, Yoga, Paddle Boards, Weddings, Gym, Irons, Kitchenettes, Restaurant, Room Service, Spa, Jacuzzi, Flat Screen TV, Apartments, Snorkeling, Water Toys, Beach Resorts
Negril Tree House in Negril, Jamaica has been providing the highest standards of friendly, personalized service and accommodations to create the ultimate beach resort hotel vacation experience for over 25 years.
A total of 65 Garden View and Beach View Rooms, Beachfront Suites, Kitchenette Rooms and 1 & 2 Bedroom Suites Available.
Full Breakfast Buffet included.
Tree House Weddings
Wedding Package Includes:
Minister to perform wedding
Marriage license
Certified Copy of Marriage Certificate
Jamaican wedding cake
Floral arch and flowers for bride and groom
Bottle of wine and candle light dinner for couple
Cost: $650 plus 30% hotel service charge
Additional Charges:
Hors d'oeuvres before or after ceremony
Dinner for guests
Photographs and video
Music and Decorations
Co-ordinator's Fee
Requirements:
Notarized copies of bride and groom's birth certificates
If divorced, notarized copies of divorce documents
Job title of bride and groom
back to top