To inquire or book call us toll-free at 877-651-7867, or fill out one of the forms below:
For photos, information and rates:
Click resort name on map.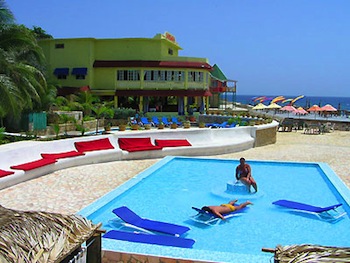 Samsara Resort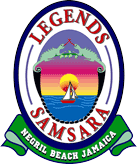 Rooms, Cottages, All Inclusive Optional, Pool, Spa, Free Wifi, Weddings, Restaurant, Air Conditioning, Fan Cooled, Jacuzzi, Snorkeling, Beach Shuttle, Sea View, Water Access, Flat Screen TV, Cliff Resorts
Casual, Carefree, Seductive...
This seaview, "cliffside" resort includes
charming cottages, romantic pillar houses and deluxe rooms.
For more privacy choose their garden side cottages.
Optional All Inclusive with 3 meals and local drinks.
Free shuttle to sister resort "Legends" on the beach
Samsara Resort Rates
Regular Room Only and All Inclusive Rates 2018/2019
Rates per person per night

TO BOOK Please Use: INQUIRY FORM or Call Toll-free: 877-651-7867
All 2018 rates are in $U.S.
Rates DO NOT INCLUDE 20% Jamaican tax and hotel service charges
Rates DO NOT INCLUDE a $1/bedroom/night Jamaican room tax (payable at the hotel)
All rates are per person per night based on occupancy
Required Deposit: 3 nights (Winter and Summer) / 7 nights (Holiday Season)
All rates are PER PERSON PER NIGHT
Normal Winter Rates
Jan 3 - Apr 30, 2018
(Minimum booking: 3 nights)
SPECIAL -
Jan 3 - Apr 30, 2018
ONESTOP WINTER 2018 ROLLING SALE
10 -20 % OFF
Dates: Jan 3 - Apr 30, 2018
CLICK FOR DETAILS
Rates: Per person/night
Single
Double
Triple
Quad
Meal Plan
Room Only
All Inclusive
Room Only
All Inclusive
Room Only
All Inclusive
Room Only
All Inclusive
Garden View Cottage
w/Air Conditioning
$150
$201
$75
$118
$62
$100
$52
$94
NEW
Jr Suite Apt.
$167
$211
$83
$124
N/A
N/A
N/A
N/A
Ocean View Superior Hotel Room
w/Air Conditioning
$179
$222
$89
$131
$66
$111
$55
$105
Ocean View King Cottage w/Air Conditioning
$189
$231
$95
$136
$70
$116
$57
$109
Pillar House
w/AC, mini-fridge and coffee maker

$230
$296
$115
$181
N/A
N/A
N/A
N/A
NEW
T5 Family Suite
$230
$267
$115
$157
$83
$134
$67
$126
All rates are PER PERSON PER NIGHT
Normal Summer Rates
May 1 - Dec 21, 2018
Minimum Booking: 3 nights
ONESTOP SUMMER 2018 ROLLING SALE
10 -25 % OFF
Dates: May 1 - Dec 21, 2018
CLICK FOR DETAILS
Rates: Per person/night
Single
Double
Triple
Quad
Meal Plan
Room Only
All Inclusive
Room Only
All Inclusive
Room Only
All Inclusive
Room Only
All Inclusive
Garden View Cottage
w/Air Conditioning
$102
$157
$51
$112
$41
$95
$35
$90
NEW
Jr Suite Apt.
$114
$165
$57
$118
N/A
N/A
N/A
N/A
Ocean View Superior Hotel Room
w/Air Conditioning
$130
$174
$65
$125
$50
$108
$43
$100
Ocean View King Cottage w/Air Conditioning
$141
$182
$70
$130
$54
$110
$45
$104
Pillar House

$175
$241
$87.50
$153.50
N/A
N/A
N/A
N/A
NEW
T5 Family Suite
$173
$211
$87
$150
$64
$128
$53
$120
ATI Reservations require full payment at time of booking
and are 100% non-refundable
Minimum stay: 7 nights
(Dates vary each year, please inquire for applicable dates)
All rates are PER PERSON PER NIGHT
Normal Holiday Rates
Dec 22, 2018 - Jan 1, 2019
Minimum Booking: 7 nights
ONESTOP HOLIDAY 2018 ROLLING SALE
5 - 15% OFF
Dates: Dec 22, 2018 - Jan 1, 2019
CLICK FOR DETAILS
Rates: Per person/
Single
Double
Triple
Quad
Meal Plan
Room Only
All Inclusive
Room Only
All Inclusive
Room Only
All Inclusive
Room Only
All Inclusive
Garden View Cottage
w/Air Conditioning
$166
$222
$83
$131
$62
$111
$52
$105
NEW
Jr Suite Apt.
$185
$236
$92
$139
N/A
N/A
N/A
N/A
Ocean View Superior Hotel
$197
$243
$99
$143
$72
$122
$59
$115
Ocean View King Cottage w/Air Conditioning
$208
$252
$104
$148
$76
$126
$62
$119
Pillar House

$252
$318
$126
$192
N/A
N/A
N/A
N/A
NEW
T5 Family Suite
$247
$293
$123
$173
$89
$147
$72
$138
Holiday Reservations require full payment at time of booking
and are 100% non-refundable
Minimum stay: 7 nights
Children:
Up to two under 12 years stay free when sharing room with parents.
Children All Inclusive: $40/day plus 20% tax and hotel service charges sharing with two full-paying adults
In House Dining Discount:
10% discount on all meals for in-house guests at Samsara and Legends Resorts
Additional Meal Plan:
Breakfast: $12/pp -
10% Tax and 10% Service Charge additional
Sale rate reductions DO NOT apply to meal supplement rates
RESORT CANCELLATION POLICY:
14 days prior to arrival: Full Refund
13-8 days prior to arrival: Loss of deposit
7 days or less, no shows or short stays: No Refund
Peak periods require 21 days advance notice of cancellation for refund.
Peak period: Christmas, New Years, Spring Break, Easter,
Jamaican Independence (July 27-Aug 5) and US Thanksgiving

CREDIT CARD POLICY:
All credit card refunds subject to a 5% refund charge

Rates subject to change without notice
back to top