To inquire or book call us toll-free at 877-651-7867, or fill out one of the forms below:
For photos, information and rates:
Click resort name on map.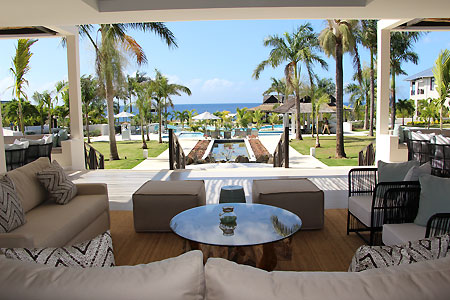 The Cliff Hotel

Rooms, Suites, Villas, Sea View, Pool, Spa, Free Wifi, All Inclusive Optional, Breakfast Optional, Water Access, Cliff Resorts
Perched on the westernmost edge of Jamaica, The Cliff Hotel is a luxury resort overlooking the cliffs of Negril.
It offers 33 luxury suites and villas, perfect for romantic getaways, honeymoons and weddings.
All accommodations offer views of the beautiful Caribbean Sea and glorious sunsets.
Featuring a spectacular free form pool, sea pool, two restaurants, three bars, and beautiful tropical gardens.... the perfect vacation getaway.
The Cliff Hotel Rates
Rates 2018
TO BOOK Please Use: INQUIRY FORM or Call Toll-free: 877-651-7867
All rates are in $U.S.
Rates DO NOT INCLUDE 10% Jamaican tax and 15% Hotel Service Charge
Rates also DO NOT INCLUDE $1/bedroom/night Jamaican room tax
All rates are based on single/double occupancy
Required Deposit: 3 nights - full payment due 21 days prior to arrival except
Feb 10-28, 2018 and Dec 20/17 - Jan 3, 2018 - full payment required 45 days prior to arrival
SUITES
THE COTTAGES
Dates/
Accommodations
Junior Suite
Max: 2 Persons
Deluxe Junior Suite
Max: 3 Persons
One Bedroom Suite
Max: 3 Persons
Villa1
Max: 2 Persons
Villa 2
Max: 2 Persons
Villa 4
Max: 8 Persons

Villa 5
Max: 10 Persons

Jan 3 - Feb 9, 2018

$350
$400
$600
$1000
$1000
$1500
$1875
Feb 10-28, 2018
$400
$450
$750
$1200
$1200
$1700
$2125
Mar 1 - Apr 9, 2018
$350
$400
$600
$1000
$1000
$1500
$1875
Apr 10 -16, 2018
$400
$450
$750
$1200
$1200
$1700
$2125
Apr 16 - Dec 19, 2018
Onestop Summer Escape Special - 7th Night Free - Click For Details
Apr 17 - Dec 19, 2018
$300
$350
$450
$750
$750
$1300
$1625
MEAL PLANS
MEAL PLANS
Persons sharing the same room must be on the same meal plan
Continental Brealfast
Full Breakfast
MAP
(Breakfast and Dinner)
FAP
(Breakfast, Lunch, Dinner - no beverages)
Full Food and Beverage Plan
(Breakfast, Lunch, Dinner
and select beverages by the glass)
Per Person/Day
Children Ages 3-12: 50% off adult cost
$10
$20
$70
$95
$150
A 3 night minimum applies to all bookings
Terms and conditions:
All rates are per room, per night- whether single or double occupancy.

Extra Person Charges
Dec 20 - Apr 15: $100/night
Apr 16 - Dec 19: $60/night
Persons sharing the same room must be on the same meal plan

Minimum stay required:
Dec 20, 2018 – Jan 7, 2019 (5 nights)

RESORT CANCELLATION POLICY:
Winter: 14 days advance notice - no penalty, less that 14 days notice - 3 night penalty.
No-show charge: Full payment.
Summer: 7 days advance notice - no penalty, less that 7 days notice - 3 night penalty.
No-show charge: Full payment.
Holidays: 45 days advance notice - no penalty, less that 45days notice - Full payment non-refundable.
No-show charge: Full payment.

Resort Cancellation Policy differs for weddings - please call for details

CREDIT CARD POLICY:
All credit card refunds subject to 5% refund charge

Rates are subject to change without notice
back to top