To inquire or book call us toll-free at 877-651-7867, or fill out one of the forms below:
We require 48 hours to book a tour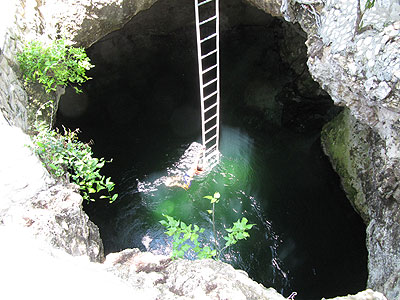 Blue Hole Mineral Springs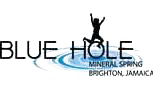 Private Tour, Scenic Tour, Transfers Only
The Blue Hole is located about 30 min. from Negril near the community of Little Bay.
Experience the thrill of jumping off a cliff (or climb down a ladder) 22 ft. to swim in the hole's cool mineral water reputed to have therapeutic properties that energize and refresh.
Blue Hole Mineral Springs
Watch the life guards leap from overhanging trees to dive 55 ft. into the spring.
There is plenty of room to swim and float in this 40 ft by 50 ft. pool and the depth is 35 ft.
A separate swimming pool is feed by the same mineral water.
They open at 9 am and have a bar/grill, cabana and volleyball court so you can spend the day here and enjoy the county side.
"Wabba" Clayton, manager and co owner is there to make sure you have an irie time.
Blue Hole Mineral Spring is open every day beginning at 9:00 am. The mineral spring and swimming pool remain open until dark while the bar serves guests late into the evening and early morning hours until the last person leaves. Admission - Full Day - $10/pp. All day party Sundays
Blue Hole is located about 30 min. from Negril near Little Bay.
The adventurous can jump from 22 ft or take a ladder down to the cold mineral springs. For the less adventurous the swimming pool is feed from the same mineral springs.
They also have cabanas and a volleyball court (beach sand). Horseback riding can be arranged at $60. per person per hour and shorter rides are possible.
Hours: 9 AM - Dark
All Day Party Sundays
Bar remains open after dark until last person leaves
back to top

When you make your reservation through Onestop you'll receive the Onestop Preferred Client Card upon check-in at your hotel. This card gives you many incentives and discounts with around 50 different businesses in Negril.
Newsletter
Subscribe to our monthly newsletter to receive "resort specials", "what's happening around Jamaica", "new tours and attractions" etc. directly in your mailbox.