We require 48 hours to book a tour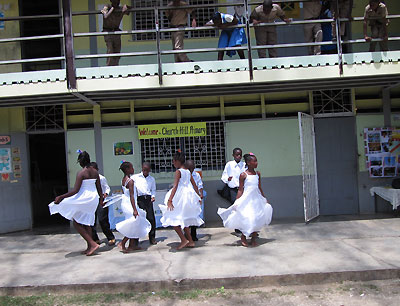 No Results
We could not locate any matching places.
This tour runs every Wednesday ONLY
Hotel Pickup: 9 am
We require 48 hours notice to book a tour!
To experience the real Jamaica you have to get to know her people and see their way of life outside of the "resort experience". Community Tours offers 2 tours from the Negril area that allow you to enjoy authentic rural Jamaica, without pretenses and to meet the proud, if poor people. Jamaicans are proud of their way of life and their heritage and want to share their experiences and knowledge with visitors ...and they want to get to know you too.
Each local participant benefits financially and gets to participate in the tourism experience.

Orange Bay Community Experience Tour:
This fun and informative tour includes pick up from your resort and transfers. You will visit Viviane's Beauty Salon and Fashion House, Community welcome at the Church Hill Primary School with locally made refreshments from Yard Vybz Pastry Shop and local fruits in season and school entertainment, Tour of St. Augustine Anglican Church –one of the heritage sites in the community, stop at a local bar, lunch at a local restaurant where you can enjoy real Jamaican food and shop for authentic Jamaican arts and crafts. Receive a Jamaican fruits print gift item from Creative JA, Orange Bay Village.
back to top
Stay up-to-date with the latest news and specials from Jamaica. Be informed of upcoming events, last minute deals, and featured hotels and tours every month.