BEACH RESORT MAP
Click on resort name for additional photos and information from our 23 years experience in Negril

CLIFF RESORTS MAP
Click on resort name for additional photos and information from our 23 years experience in Negril since 1998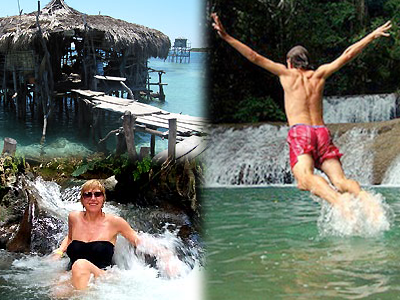 Combination Tours

Combo Tour, Private Tour, Scenic Tour, Bamboo Rafting, Malcolm Brothers Tours, YS Falls, Floyd's Pelican Bar, Floyd's, Mayfield Falls, Roaring River, Dunns River Falls, Appleton Rum Tour, Blue Hole, Black River Safari, Ricks Cafe
Jamaica Onestop and Malcolm Brothers Tours offer a list of customizable tours for your group of 1, 2, 20 or more!
Combine a Private Scenic Tour with another - the closer they are, the more tours you can fit into one day!
Below is a list of combinations that we've already put together for you, but don't hesitate to ask us about a special combination for your group that isn't listed below. We'll help you get the most out of your day, while giving you the best rate possible.
Combination Tours
We require 24 hours to book a tour
Combo Tour resort pickup time is: 9 AM (all 2 tour combos)
8 AM (all 3 tour combos)

After you click "Book Now" and fill in your info, your total cost will appear at the bottom of the form.
Then click "Add To Cart"
Jamaica Onestop pairs our trusted drivers from Malcolm Brothers Tours with all of the tours we offer to provide you with a customizable tour date that's right for you.
Whether you're one person, two, or twenty and more, we can work with you to arrange a day of fun, education and/or adventure - whatever your preference, we're here for you. Pick from our selection of pre-packaged tour combinations, or come up with your own and ask us for rates and advice.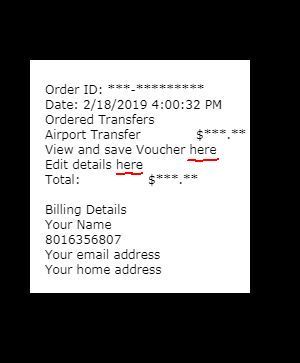 Once you've made your booking you will receive two emails.
(1) Your payment receipt.
(2) Example at left, will have a link to your voucher (to save or print) and a link for editing what you've just purchased.
If you don't get both of these please be sure to check your "junk" folder....thanks.
back to top