BEACH RESORT MAP
Click on resort name for additional photos and information from our 22 years experience in Negril

CLIFF RESORTS MAP
Click on resort name for additional photos and information from our 20+ years experience in Negril since 1998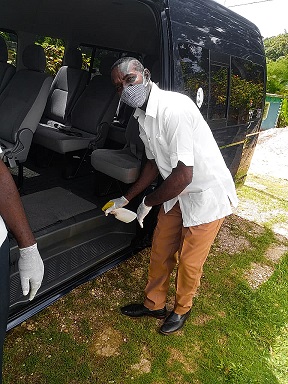 Tours can be booked separately or in the combinations offered
Large groups welcome
Covid 19 Protection - We now disinfect all of our vehicles before and after each pickup or drop-off as well for all of our tours
All scenic tours include private transfers, entrance fees and lunch
(exceptions: Floyd's and scenic tours with transportation only - No Lunch).
All Tours Map
From Negril Area Hotels and Resorts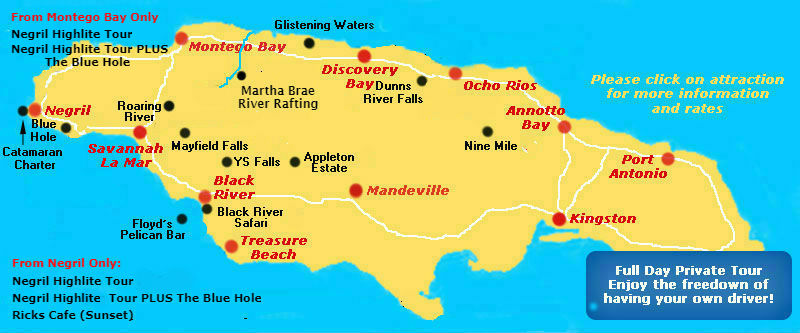 Please Note: Pickup times from all resorts are as follows:
Single Tours: 10 AM Two Tour Combos: 9 AM Three Tour Combos: 8 AM
Exceptions: Negril Highlite tours and Ricks Cafe

After you click "Book Now" and fill in your info, your total cost will appear at the bottom of the form.
Then click "Add To Cart"
All scenic tours include private transfers, entrance fees and lunch
(exceptions: Floyd's and scenic tours with transportation only - No Lunch)
Please Note: Pickup times from all resorts are as follows: Single Tours: 10 AM Two Tour Combos: 9 AM Three Tour Combos: 8 AM
Children 10 years and younger are half price. Infants 2 years and younger are free.
Please do not book children 2 years and younger on the booking form. Instead please let us know that an infant will be with you
Cancellations: A 10% credit card processing fee applies to any refund.
You will be emailed a receipt showing your refund for your records.
Banks may take 3-5 days for the refund to show on your bank statement.
No refunds for cancellations made within 24 hours of your tour.
If necessary, you can modify your tour date while in Jamaica by phoning the number on your voucher


back to top