CLIFF RESORTS MAP
Click on resort name for additional photos and information from our 25 years experience in Negril since 1998

BEACH RESORT MAP
Click on resort name for additional photos and information from our 25 years experience in Negril

Ricks Cafe Transfers

Transfers Only, Private Tour, Scenic Tour
For every visitor to Negril, a visit to the world famous Rick's Cafe, is a "must do".
Get picked up from your hotel at 4 PM for your private trip to Ricks
Cool off in their swimming pool, see the cliff divers show off their expertise...or try a lower jump yourself!
Stay for the live entertainment and amazing sunset views.
Great food and beverages available.
Then you are returned to your hotel about 7 PM (speak to your driver)
(463)
Ricks Cafe Transfers
RICKS CAFE PRIVATE ROUND TRIP TRANSFERS
Rates are in $US and are for transfers ONLY
Number of People
1 or 2 Persons
Extra Persons
Year Round
$30
$15
Duration: About 3 hours
Cancellations:
A 10% credit card processing fee applies to any refund.
You will be emailed a receipt showing your refund for your records.
Banks may take 3-5 days for the refund to show on your bank statement.
No refunds for cancellations made within 24 hours of your tour.
You can change any transfer by phoning the number on your voucher.
Rates subject to change without notice.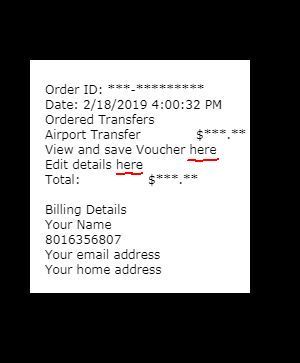 Once you've made your booking you will receive two emails.
(1) Your payment receipt.
(2) Example at left, will have a link to your voucher (to save or print) and a link for editing what you've just purchased.
If you don't get both of these please be sure to check your "junk" folder....thanks.
back to top