We know Jamaica!
We specialize in booking the Jamaican vacation that's perfect for you
Since 1998

To inquire or book call us toll-free at 877-651-7867, or fill out one of the forms below:

Endorsed By
The Jamaica Tourist Board



Susan     Bob       Erica
Book through Onestop Vacations for:
Personal, knowledgeable service "We know what we sell" and take our own photos and videos. Great resort rates, Private Airport Transfers, Tours / Attractions, Flights, Car Rentals, Catamaran Charters, Travel insurance
No additional fees to use our services and you can talk to folks who have been there
All rates in US$
Check out our video of Negril above. We recommend viewing it in full screen!
Negril Jamaica
Laid back, friendly and easily accessible, Negril has something for everyone.
Negril is located on the westernmost tip of Jamaica...the sunset side of Jamaica. The weather is subtropical, with daytime temp.of 85 degrees Fahrenheit most of the year.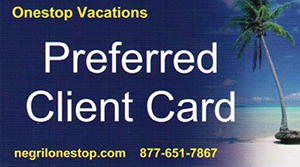 Onestop Preferred Client Card
We've travelled around Negril to bring you the best it has to offer. Get discounts at restaurants, bars, and activities around Negril beach and cliffs, when you book your accommodations through us.
When you book with us, you get the card at the front desk - it's that simple. You can view the full vendor list and the maps for their locations on our site by clicking the card to the right.
Repeat Clients
After booking accommodations with us once, next time you book another stay in Jamaica for 5 nights or more, you get 5% off your total stay! (Some exceptions apply.)
back to top