BEACH RESORT MAP
Click on resort name for additional photos and information from our 20 year experience in Negril

CLIFF RESORTS MAP
Click on resort name for additional photos and information from our 20 year experience in Negril

We require 24 hours to book a tour
Single Tour resort pickup time is: 10 AM (all single tours)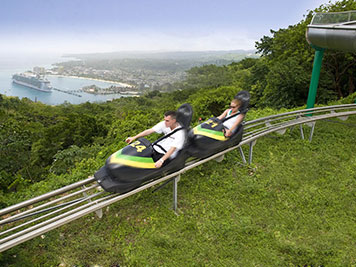 Mystic Mountain Rain Forest Adventures

Adventure Tour, Bob Sled, Zip Line, Water Slides, Sky Explorer, Hummingbirds, Adventure
Have you ever gone bobsledding? Was it in a forest? Rated as one of the top attractions in Jamaica, come and experience the exhilarating bobsled ride down the famed Mystic Mountain! This is one of the most famous Jamaica tourist destinations in one of the coolest destinations in the Caribbean. At Rainforest Adventures, we include the SkyExplorer ride, canopy zip lines, Mystic Waterslide and infinity edge pool and more for your amazing Jamaica excursion. Enjoy a spectacular lunch at our restaurant overlooking the bay of Ocho Rios.
Mystic Mountain Rain Forest Adventures
The Rainforest Adventures park at Mystic Mountain in Ocho Rios is the heart and soul of the Jamaica rain forest activities! You'll have ample opportunities to put on your explorer's hat and take your camera on a photo safari — this park takes you all the way from the seashore to 700 feet above sea level at the top of the mountain, stretching over 100 acres. Cool off after your adventure in the new infinity pool with exciting 77 meter water slide. Mystic Mountain Rain Forest Adventure.
Mystic Mountain Rain Forest Adventure Tours are located just outside Ocho Rios, Jamaica offering the following adventures:
All tours include:
Mystic Museum features displays and memorabilia celebrating Jamaica' renowned culture, great moments in sports and the promotion of environmental awareness and conservation of natural resources
Lookout Tower - stunning views of Jamaica's north coast are paramount along with majestic vistas of the hills and valleys of St. Ann
Infinity Pool and Waterslide - the edge of the mountain to complete this sensational setting is the infinity pool; a perfect modern counterpart to the stunning tropical hillside
Hummingbird Garden and Nature Trail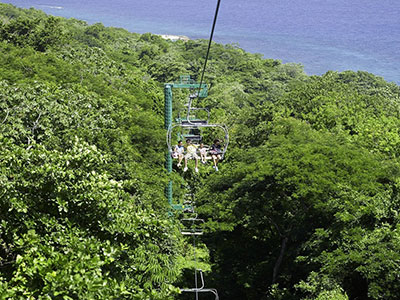 Soar 700 feet above the rainforest riding the rainforest Sky Explorer chair lift tour. This is a state-of-the-art chairlift that is positioned prominently at the park's entrance, giving you a chance to explore the treetops above Mystic Mountain.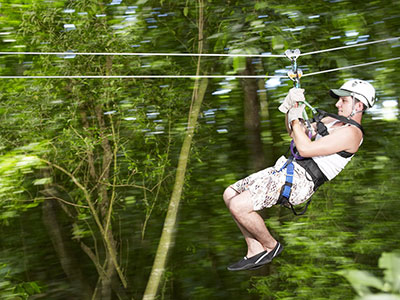 Take flight through the tops of the rainforest with our Canopy Zip Line tour. Whisk through the verdant rainforest canopy and glide from one platform to another.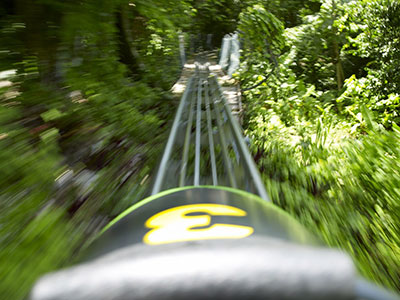 Find yourself twisting down the mountainside aboard our bobsled adventure. Inspired by the famous Jamaica bobsled Olympic team, the bobsled ride is the signature attraction of Rainforest Adventures Mystic Mountain, ranked by TripAdvisor.com as one of the top attractions in Ocho Rios, Jamaica.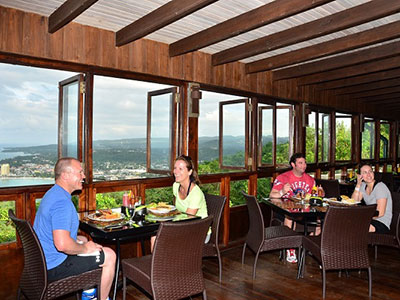 Mystic Dining at 700 Feet
Stellar views are the centerpiece of this establishment, which is also perfect for hosting private groups and functions. Seating for 78 persons, panoramic views and ample outdoor space makes it the ideal spot for intimate weddings, corporate events and special occasions.
back to top