BEACH RESORT MAP
Click on resort name for additional photos and information from our 23 years experience in Negril

CLIFF RESORTS MAP
Click on resort name for additional photos and information from our 23 years experience in Negril since 1998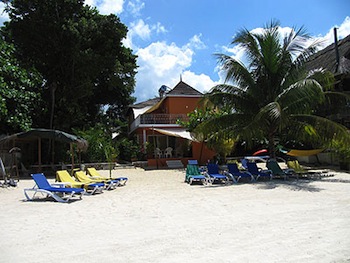 SeaSand Eco Villas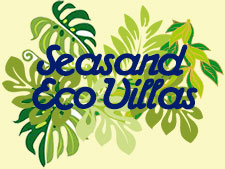 Villas, Staff, Eco-friendly, Free Wifi, Air Conditioning, Beach Resorts
Relax and unwind into a mellow Jamaican vibe.
SeaSand Villas comfortable accommodations, reasonable rate, attentive staff and Negril beach location ensure a memorable Jamaican vacation.
Enjoy a comfortable, casual "home away from home" vacation in their 2, 3 or 4 Bedroom Villas,
Your own cook/housekeeper included.
SeaSand Eco Villas

SeaSand Eco Villas is a unique villa/ hotel located on the seven mile beach in sunny Negril, Jamaica.
This quiet complex of four lovely villas consists of three separate two floor buildings.
The property has a private beach with beach lounge chairs and sun umbrellas provided.
Two villas are self-contained single houses and the other two villas are side by side duplexes in the same house (presently only one side of the duplex is available).
SeaSand Eco Villas continues in the tradition of providing villa guests with a carefree comfortable vacation by providing such serviced perks as your own chef and housekeeper.
On site security.
Each villa has its own cook/housekeeper and their services are included in the rates (Angie in Native Son, Michelle in Soon Soon and Millie in Otherside villa)
Other on site staff are always available to assist with your every need including shopping in Jamaican markets and stores as well as island excursions.
The cost of purchasing groceries is your expense and the chef does all the cooking and cleans up for you.
It's up to you what you would like to eat each day and when!
On your first morning a complimentary breakfast is provided.
Gardeners Blue and Patrick are also great cooks as they do all the grilling on the outside barbecue using local charcoal and pimento leaves to add flavor, enhancing the marinades the ladies have put on earlier in the day.
Flat screen Cable TV's are provided in all Villas
Air- Conditioning in all bedrooms, Ceiling Fans throughout the Villa (we are an environmentally friendly establishment we kindly encourage that air conditioning use is kept to a minimal and only used at night).
Complimentary (WLAN) Wireless Internet Service in most areas
Standby Generator on site
LAUNDRY SERVICE is taken care of by the Villa Attendants
Purified Water throughout the Villas, which ELIMINATES THE NEED FOR BOTTLED WATER
Fully Equipped Kitchen
Very comfortable beds and 100% cotton linen
Complimentary crib and high chair
Outdoor Barbecue
Complimentary swimming floats and sand toys
Designated swimming area
Eco Friendly Beach Lounge chairs
Hammock and Swing Chair are situated on the beach part of the property
Private Decks off Bedrooms as well as living area
Mosquito Screens are on all the windows in each Villa
We have outside showers situated close to each Villa, so that you can rinse off before you go into your Villa.
Children's Playground .
Villas
"Native Son" Villa has four (4) bedrooms and accommodates max ten (10) people if 2 or more are children or 8 adults comfortably, with beds as follows:
Bedroom A - king size bed
Bedroom B - twin bed and queen bed
Bedroom C - twin bed and queen bed
Bedroom D - twin bed and full bed
4 Bathrooms
Living/dining room
Living room bar
Outdoor patio with eating area
Full kitchen
"Soon, Soon" Villa has three (3) bedrooms and accommodates max.seven 7 people (6 comfortably), with beds below:
Bedroom "A" - king size bed
Bedroom "B" - twin bed and queen bed
Bedroom "C" - one queen bed
3 Bathrooms
Living/dining room
Living room bar
Outdoor patio with eating area
Full kitchen
"Other Side Villa" has one bedroom and can accommodate 2 people maximum.
King size bed in the bedroom.
1 Bathroom
However, twin beds can be added at an additional charge of US $50.00 per night.
Living/dining room
Outdoor patio with eating area
Full kitchen

back to top