BEACH RESORT MAP
Click on resort name for additional photos and information from our 23 years experience in Negril

CLIFF RESORTS MAP
Click on resort name for additional photos and information from our 23 years experience in Negril since 1998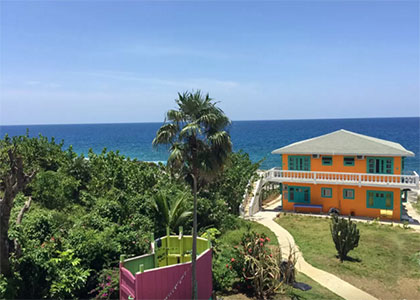 Somewhere West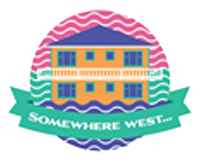 Air Conditioning, Apartments, Bicycles, Chef Available, Cottages, Free Wifi, Full Kitchens, Pool, Sea View, Snorkeling, Villa, Water Access, West End, Cliff Resorts
A four bedroom guesthouse on the Deep West End of Negril, that consists of four separate apartments. Two on the bottom floor (Afterglow and Green Flash), and two on the top (Indigo Sky and Starina).
Each floor connects to two apartments by the outside verandahs, and each have separate side entrances. The entire villa can fit sixteen guests, when extra beds are added.
Somewhere West

A brightly colored four bedroom guesthouse, right on a secluded part of the picturesque cliffs of Negril. With extra beds, the entire villa can fit up to sixteen people - enough for a big family or friends getaway!
The Guesthouse
The Guesthouse has 6 bedrooms and 4 bathrooms, accommodating up to 16 people. The entire villa is fully air conditioned, and free WiFi provided (though slow, which should be expected in most places in Jamaica). Property is fully gated and secured by cameras and dogs (all of whom are friendly). Owners live on property.
Each oceanfront villa includes:

Full kitchen
Living Room
Queen Beds
WiFi
Hot Water
Ocean Access
Breathtaking ocean and sunset views
Laundry services ($5 USD per load)
The property has a shared salt water pool, a large pool deck, and a thatch hut which includes hammocks and a large dining area. A ladder provides access to the sea, for swimming and snorkelling when the waters are calm.
Check-in: 3:00 PM
Check-out: 11:00 AM
Bicycles can be rented for $10 per day.
Chef Oneil creates exquisite Jamaican dishes via the menu. Breakfast ranges from $7-13 USD per plate, and dinners from $17-30 per plate. Full menu provided below. Food plans are offered to big groups of over six people and more. Prices are determined by the size of the group - the bigger the group, the better the prices.
Guests are free to ask the chef to prepare a dish that's not on the menu. Please be advised all meals are prepared fresh to order, and take a decent amount of time to prepare. Rest assured all are worth the wait!
Somewhere West provides you with local transportation in and around Negril.
Prices are:

West End - $5 one way (1-2 persons); Additional persons $3/each
Beach Road - $10 one way (1-2 persons); Additional persons $4/each
House Rules
Somewhere West kindly asks their guests to be respectful of their neighbours in the nearby units. They are a 420 friendly property. There is currently no strict guest policy nor is there a curfew for latecomers, though we ask that guests to be conscious of their noise levels and particular with whom they choose to have as guests in their apartments. Outside guests are not permitted to stay overnight unless prearranged and paid for with management. Smoking should be done outside on the verandas.

Starina
Upstairs
Two Queen beds
One Queen in private bedroom with A/C
Second Queen bed in common area
Fits 4 people, or 5 with someone sleeping on the couch (though not very comfortable, would be for the rugged traveller)
Indigo Sky
Upstairs
One Bedroom with Queen bed
Double bed added on request
Ideal for couples, though can fit four with extra bed
Veranda connects with Starina's veranda
Full separate kitchen
Green Flash
Downstairs
Two Queen beds
Fits four comfortably
Full separate kitchen
Afterglow
Downstairs
Veranda connected to Green Flash
Two Bedroom unit
One Queen bed in private bedroom with A/C
Daybed in living area, with room for third bed (on request)
Fits 2-4 people
Full kitchen and eating bar
back to top