BEACH RESORT MAP
Click on resort name for additional photos and information from our 23 years experience in Negril

CLIFF RESORTS MAP
Click on resort name for additional photos and information from our 23 years experience in Negril since 1998

We require 3 days advance for booking Dolphin Cove
Full payment by credit card required at time of booking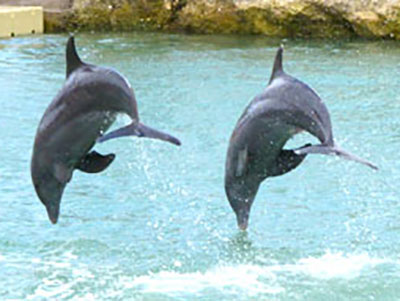 No Results
We could not locate any matching places.
DOLPHIN COVE MONTEGO BAY (Negril)
INDIVIDUAL AND PACKAGE RATES
TO BOOK Please Use: INQUIRY FORM or Call Toll-free: 877-651-7867
All rates are in $U.S.
Rates INCLUDE 10% Jamaican tax
Please Note For LOCAL JAMAICAN RATES PLEASE CONTACT DOLPHIN COVE DIRECTLY
Activity Please click on activity for information.
Adult Rate
Child Rate (age 6-12)
Admission
(Included with any program below)
$29/person
$19/child
Dolphin Encounter Program
Min. age: 6 years to "Encounter" on their own Children 0-5 years are free (with adult)
$99/person
$99/child
Shark Encounter
Hold and feed a shark by hand
$99/person
$99/child
Dolphin Swim Adventure Program
Children 6-12 must be accompanied by an adult Children 5 years and younger can participate as long as they are a good swimmer and are accompanied by an adult (child rate applies)
$149/person
$99/child
Dolphin Royal Swim Program
Children 8-12 must be accompanied by an adult
$199/person
$99/child
Round Trip Transportation (optional) - With program or package above Children 2 and under travel FREE
Grand Palladium
$8/round trip/person
Negril or Montego Bay/
Tryall
$20/round trip/person
Trelawny
$35/round trip/person
Whitehouse
$60/round trip/person
Above transfer rates include Jamaican tax
NEW: For persons under the age of 18 years a parent or guardian must sign a Liability Waiver Form. This is a legal document which has to be completed by an adult Without the adults signature, minors will not be permitted to complete the tour.
TOUR CANCELLATION POLICY
Refunds for Dolphin Cove only available 7 days or more prior to arrival in Jamaica.
No refunds within 7 days of arrivalCREDIT CARD POLICY
All credit card refunds subject to 5% refund charge
Rates subject to change without notice
Booking more than one type of adventure?
To book more than one type of adventure, click on the "Book Now" button for your first adventure, then follow the steps on the next page to proceed to the booking page, but don't continue with payment. Instead, come back to this page and click on the second adventure "Book Now" button. Proceed through the booking page again, and only continue with payment once you've repeated these steps for every different type of tour. Every time you'll see that on the payment page, the tours have been added, and all should show up together, so that you may pay together instead of separately.
If you're having trouble, you can always call us toll-free at 877-651-7867, and we'll go through the booking with you, and help you book your tours.
back to top