To inquire or book call us toll-free at 877-651-7867, or fill out one of the forms below:
For photos, information, and rates,
click on resort name below: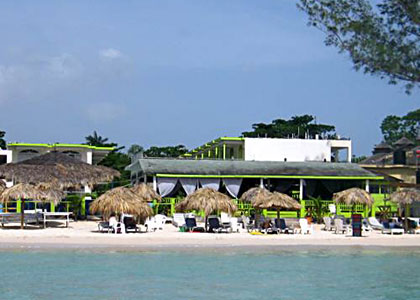 Fun Holiday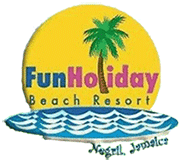 Air Conditioning, All Inclusive Optional, Bar, Beach Resorts, Breakfast Optional, Flat Screen TV, Free Wifi, Meal Plans, Meal Plans Available, Pool, Restaurant, Rooms, Sea View
Fun Holiday Beach Hotel is an Economic, Budget, Family Friendly, Beachfront, All-Inclusive and E.P. Resort. It is located in the center of the world famous Negril Seven Mile long white sand beach.
Fun Holiday Rates
Rates 2018/2019
TO BOOK Please Use: INQUIRY FORM or Call Toll-free: 877-651-7867
All rates are in $U.S.
Rates INCLUDE 20% Jamaican tax and resort service fees
Rates DO NOT INCLUDE $1/bedroom/night tax (payable at hotel)
Rates are based on occupancy below
Required Deposit: 5 nights (Winter) / 3 nights (Summer)
Room Type
Standard Garden View
Standard Ocean View
Meal Plan
All Inclusive
Room Only
Breakfast Plan
All Inclusive
Room Only
Breakfast Plan
Occupancy
Single
Double
Single/
Double
Supplement per person
Single/
Double
Single/
Double
Supplement per person
Dec 17, 2017 - Apr 15, 2018
$170
$200
$120
$15
$180
$210
$130
$15
Apr 16 - Dec 16, 2018
$135
$157
$80
$10
$145
$167
$85
$10
Dec 17, 2018 - Apr 16, 2019
$178
$220
$135
$15
$188
$230
$145
$15
SPECIAL
ALL-INCLUSIVE PACKAGES
Year Round

ONESTOP SUMMER AND WINTER SEMI-ALL-INCLUSIVE PACKAGE DEALS
Deals include: Airport Transfers, Car Rental or Day Excursion, Room, Breakfast, Lunch, Dinner and Drinks
Click Here for details
Minimum Stays
Winter - 5 nights
Summer 3 nights

Additional Person in Room
The rate for each additional person in a room is as follows:
Summer - EP $15 | AI $65 - per person
Winter - EP $25 | AI $75 - per person

Children sharing room with paying adult
Ages 0-5 Free (2 children maximum per room)
Ages 6-12 75% of adult room rate (limit of 2 per room) for all inclusive
Extra child ages 6-12 $10 per night

RESORT CANCELLATION POLICY
Cancellations done within 7 days prior to arrival in summer/fall will attract a charge of 50% of the total cost. Cancellations done within 21 days prior to arrival in the winter season will attract a charge of 50% of the total cost. There will be no refund for no shows, reservations cancelled after check in, or early departures.

CREDIT CARD POLICY
All credit card refunds subject to 5% refund charge

Rates subject to change without notice
back to top