BEACH RESORT MAP
Click on resort name for additional photos and information from our 22 years experience in Negril

CLIFF RESORTS MAP
Click on resort name for additional photos and information from our 20+ years experience in Negril since 1998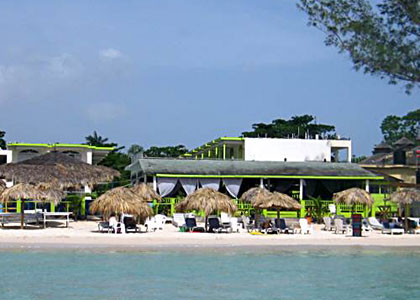 Fun Holiday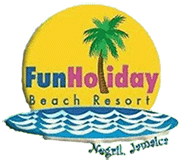 Air Conditioning, All Inclusive Optional, Bar, Beach Resorts, Breakfast Optional, Flat Screen TV, Free Wifi, Meal Plans, Meal Plans Available, Pool, Restaurant, Rooms, Sea View
Fun Holiday Beach Hotel is an Economic, Budget, Family Friendly, Beachfront, All-Inclusive and E.P. Resort. It is located in the center of the world famous Negril Seven Mile long white sand beach.
Fun Holiday Weddings
Together Forever with Two Hearts That Beat as One
Requirements:

ID Passport, Birth Certificate
If married: Copy of final divorce papers
Must be in the island for more than 48 hours

Package Includes:

Pastor
License
Bridal bouquet
Certified copy of Marriage
Dinner for bride and groom
Boutonnière
Cake of choice
Floral arrangement OPT bottle of champagne
Venue

Decorations which include:

Isle runner
Balloons
Doves
Centre piece
Bells
Other accessories
Additional Packages
Music
A live band, fire dancer or a Disc Jockey can be provided at an additional cost. Live bands can either be reggae or steel and prices range from US$400 to US$600 for a threee house period. A Disc Jockey costs $250 for a period of 4 hours. You can customize your music selection for the Disc Jockey to play. The option is also available where you can bring your own musical CD selection.
Cakes
The cake in the package is approximately 9 inches and is decorated with fresh flowers and serves 8-10 people. It is a vanilla flavored cake with a filling of your choice (guava, pineapple, coconut cream, etc.) You cake can be customized to meet your need. For larger weddings additional tiers are usually recommended.
2 Tier Basic 7" and 10" - serves approximately 20 people
3 Tier Basic 7", 10" and 12" - serves approximately 30 people.
Cakes can also include fruit or spirits; this is usually at an additional cost.
Prices are subject to changes based on style, amount of people, and decorations.
Wedding Photo/Video Package
Photo Package
An additional photo package is available which includes 30 4x6 photos or 60 10 MP images on CD
Package cost: US$300.00
Extra 4x6 photos at US$6.00 each. Extra images at US$3.50. Collage (summary of images on 8x10) - print at $45.00, image on CD US$25.00
Digital Videotaping
The coverage starts with the procession of the bridal party, ceremony, signing of documents, cake cutting, drinking of the champagne, and couples strolling on the beach. Video is edited with titles and music overlay. Couples should provide music on CD or allow editor to choose. Time frame is approximately 2 hours.
1 Custom labeled DVD (NTSC format) cost US$350.00. Additionally hours attract a surcharge of US$150.00
Reception
The reception is held in the Fun Holiday restaurant by the beach, where a buffet style dinner is provided with seating for the required number of guests. The restaurant is attractively decorated to suit the occasion, and tables are covered with table clothes and a centrepiece decoration.
The cost of the reception is dependent on the number of persons and the items selected from the menu. (The reception cost is not included in the above Wedding and Renewal Packages.)
Buffet Service
Appetizers

Codfish fritters
Conch fritters (seasonal)
Ackee and salt fish on crackers (seasonal)
Bacon rolls with plantains
Veggie tray with special dips
Festivals
BBQ or Jerk chicken wings
Grilled kabobs of shrimp
Cheese and fruit kebobs

Dinner Entree Choices

Jamaican jerk chicken
Chicken (baked, fried, etc.)
Jamaican jerked pork
Tenderloin steak
Red Snapper escovich
Curried goat
Rasta pasta - vegetarian
Callaloo pasta
Seafood pasta
Shrimp scampi
Curried shrimp
Medallions of lobster (price depends on items chosen range from US$42-65 per person)

Additional Items Included in Price:

Fresh baked dinner rolls
Garden salad
Bean and corn salad
Cabbage carrot reaisin coleslaw
Rice and peas
White rice
Garlic mashed potato
Baked potatoes
Oven browned potato
Steamed vegetables
Curried vegetables (choice of 6 items)

Desserts:

Hot brownie
Ice cream
Pineapple upside down cake
Vanilla cake
Jamaican bread pudding with honey rum glaze
Rum cake
Fruit salad

Fun Holiday can tailor make a package just for you, to suit your taste.
The seating capacities range from 4 to 200 persons.

back to top