BEACH RESORT MAP
Click on resort name for additional photos and information from our 23 years experience in Negril

CLIFF RESORTS MAP
Click on resort name for additional photos and information from our 23 years experience in Negril since 1998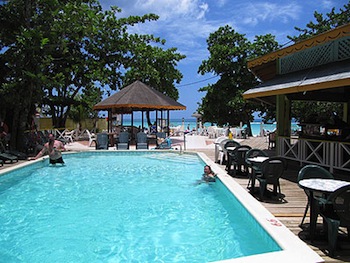 Merrils 2 and 3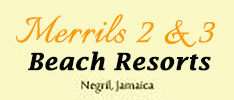 All Inclusive, Rooms, Suites, Entertainment, Free Wifi, Air Conditioning, In Room Safe, Pool, Beach Resorts, Bar, Restaurant
Centrally located on Negril, Jamaica beautiful seven mile white sand beach and set amidst tropical gardens,
Merrils 2 and 3 rates include a limited All Inclusive package ( 3 meals and all local drinks) and comfortable basic accommodations.
Merrils 2 and 3

Merrils 2 and 3 are moderately priced All Inclusive beach front resorts centrally located on Negril's seven mile beach and suitable for singles, couples and families.
These comfortable and casual resorts have wide, deep beachfronts offering both sun and shade.
All Meals (Breakfast, Lunch and Dinner) will be catered Buffet style in either the enclosed dining areas or under the stars in the open air dining area.
Restaurants feature fresh, varied and well presented fare.
Wi-Fi FREE though out properties.
Beachfront Bars serve beer and local alcoholic favorites from 10 am until 10 PM.
After 10 pm the cash bar is open.
As these are all-inclusive resorts, off-site guests must register and pay a $55 fee
Rooms are in pretty, two story units set back from the beach in a garden setting.
The A/C rooms feature bright tropical colours.
All rooms have TV, A/C, ceiling fans and balconies with table and chairs.
Telephone in rooms.
In room safe/ $3.00 US per day.
Swimming pool at Merrils 2 is adjacent to the friendly beach bar and is available to those staying at Merrils 3
Beach towels provided.
Hair Dryers and clothing irons availableon request
Water Sports available nearby.
Live entertainment and beach bar-b-que twice per week - Wed. and Sat. evening at Merrils 2
Kayaks included
Pool table (Merrils 3)
Refrigerators available in garden rooms at $7 per night (if available -on request), paid locally.
Cots available on request
Located within walking distance from shopping, entertainment, water sports, bars and nightlife.
Accommodations/Rooms
Merrils 2
Garden View Rooms (31) with 2 double beds
Garden View Junior Suites (3) are open concept with sitting area and refrigerator - 2 suites have Queen & double bed and 1 suite has King
Ocean View One Bedroom Suites (4) have separate living area with refrigerator. 1 has a queen bed and the other 3 have king beds (request only)
Merrils 3
The 35 standard and 24 superior rooms are situated in two-story, Caribbean style, buildings within a tropical garden. All rooms are equipped with air conditioning, ceiling fan, bathroom, safe deposit boxes, Telephone, TV and Patio.

back to top