BEACH RESORT MAP
Click on resort name for additional photos and information from our 25 years experience in Negril

CLIFF RESORTS MAP
Click on resort name for additional photos and information from our 25 years experience in Negril since 1998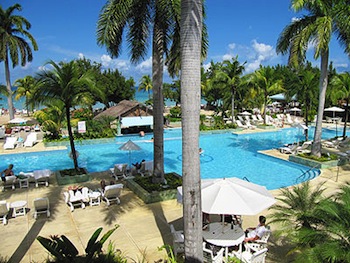 Couples Negril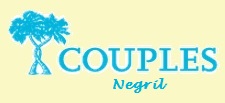 All Inclusive, Free Wifi, Suites, Spa, Pool, Gym, Golf, Entertainment, Weddings, Yoga, Adults Only, Jacuzzi, In Room Safe, Water Toys, Airport Transfers, Scuba Diving, Water Skiing, Multiple Restaurants, Bars, Beach Resorts, Flat Screen TV, Au Natural Beach, Swim Up Bar, Hair Dryers, Deluxe, Laundry Service, Irons, Stocked Bar, Tennis Courts
All Inclusive Couples Negril is 18 acres of all-inclusive luxury, personality and pleasure set on a palm lined beach in Negril, Jamaica.
Featuring 245 deluxe rooms and suites, multiple restaurants, bars, entertainment and all manor of land and water sports + off site excursions included.
Voted #19 Resort in Caribbean, Bermuda, and the Bahamas and recipient of a World's Best Award for 2014 by Travel and Leisure Magazine.
Couples Negril

Featuring 234 guest rooms and suites, Couples Negril is located on a tranquil 1000 ft. stretch of white sand beach on Bloody Bay, dotted by coconut palms and lush tropical foliage and leading out to the clear, calm, turquoise, Caribbean Sea.
Couples Negril is the most intimate of all our resorts.
Defined by imaginative, artistic features and possessing a beautiful balance of elegant and eclectic, Couples Negril offers fun, relaxation, adventure, pampering and exceptional yet unobtrusive service. All expertly carved into the captivating tropical landscape of Negril, Jamaica.
And while Couples Negril's unique appointments set them apart from any other resort, their unwavering attention to your every desire has earned them recognition as the premier all-inclusive resort not only in Jamaica, but the entire Caribbean.
Secluded romance mixes with bold Bohemian style at Negril's premier, Couples Only - All-Inclusive Resort
Indulge in the perfect blend of relaxation and activities!
"au natural" optional sunbathing in a private area.
Your All-Inclusive Vacation Includes
Airport Transfers
Champagne Upon Arrival
Continental Breakfast In Bed
All meals and Snacks. Relish the spectacular cuisine of Couples Negril. From the celebrated island flavors of Oteheite to the Mediterrranean delights of Heliconia and Asian-inspired delicacies of Lychee, our collection of restaurants sparkles with culinary originality.
Unlimited Premium Brand Cocktails and Drinks
Daily Activities and Nightly Live Entertainment
Piano Bar
Swim Up Bar
Jacuzzis
Freshwater Pool overlooking the sea
Beach towels
Off Site Excursions to Margaritaville, Sunset Bar (Pushcart) and shopping excursions to downtown Negril
Indoor Game Room
No tipping policy
All land and water sports including Scuba, Glass-bottom Boat Tour, Golf and Catamaran Cruise
234 Rooms & Suites
4 Restaurants, 6 Bars
2 Pools, 4 Jacuzzis
Au Naturel Beach & Jacuzzi
Located on 18 acres of the purest white sand in Jamaica, Couples Negril was designed as a beachfront playground, offering every activity imaginable. From scuba to sailing, snorkeling to pool volleyball, the water adventures of Couples Negril knows no bounds. For land-lovers, complimentary tennis, unlimited golf, and a pristine fitness center beckon. Whether you're paddle boarding or power walking, this sun-splashed tropical resort never ceases to amaze on-the-go guests.
Accommodations/Suites/Rooms
Beautifully decorated in vibrant tropical shades accented by crisp white bedding and authentic Jamaican decor, the resort's accommodations exude a sense of tranquility.
All have sliding glass doors leading to private, furnished balconies or patios.
All rooms and suites are air-conditioned and have ceiling fans, iPOD/MP3 players and mini bars, as well as plush terry robes, Gilchrist & Soames bath amenities, hair dryers, coffee makers, iron/ironing board, safet deposit box and nightly turn-down service.
Deluxe Garden
Tucked amid lush tropical flowers and soaring coconut palms, our Deluxe Garden guest rooms are set further away from the beach in breezy garden settings. Each has a private furnished balcony. Located on blocks 1-4, each has a private furnished balcony.
Deluxe Ocean
Featuring sliding glass doors that open onto private furnished balconies, the Deluxe Ocean guest rooms offer partial ocean views. These accommodations are located in easy proximity to the beach on blocks 5 and 7-9.
Deluxe Beachfront
Located in the heart of the resort and offering the closest access to the beach, our Deluxe Beachfront guest rooms have sliding glass doors onto private furnished balconies with angled views of the Caribbean. They are located on three floors on blocks 1, 5, 6 & 9.
Garden Suite
Overlooking lush tropical foliage and coconut palms, our spacious Garden Suites are located on blocks 8 and 9. They have sliding glass doors leading to furnished balconies, as well as comfortable seating areas and deluxe bathrooms with double vanities, deep soaking tubs, separate showers. Guests enjoy nightly hors d'oeuvres delivered to their suite each evening, as well as in-suite dining.
Beachfront Suite
Located just steps from the sand, on one of three floors, the spacious Beachfront Suites offer captivating views of the Caribbean from lovely furnished terraces. These are located on blocks 1,5,6 & 9. Indoors, relaxing seating areas and luxurious bathrooms with double vanities are among the suite's features. Guests enjoy nightly hor d'oeuvres delivered to their suite each evening, as well as in-suite dining.
Sports and Fitness

Fully Equipped Fitness Center
Couples' state-of-the-art fitness facility features high-tech cardio machines (including treadmills, ellipticals and stationary bicycles) and free weights, as well as a full menu of aerobics, spinnings, pilates, meditation, and yoga classes taught by their team of certified trainers.
Tennis & Land Sports
Couples' tennis pros and professional-grade clay and hard surface courts are sure to please even the most passionate tennis player. Sign up for daily private instruction or participate in a group clinic twice a day. Indoor racquetball, squash and table tennis also available.
Two Swimming Pools
Sunbathe and socialize by one of two swimming pools, including the sun-splashed Main Pool overlooking the beach. For a quieter time, take a dip in the smaller pool by the Tree House.
Scuba Diving
Dive into a world of wonder with their exceptional scuba diving program. Whether you are an experienced diver or just starting out, you'll delight in day and night dives.
Snorkeling Tours
Take a ride aboard the glass bottom boats for a snorkeling tour to one of 30 different snorkel sites showcasing the island's natural coral reefs. Fins, masks and snorkels are all provided.
Also: Hobie Cat Sailing, Kayaking, Water Skiing, Windsurfing, Pool volleyball and Paddleboards
Dining
Cassava Terrace
BREAKFAST/LUNCH/DINNER -Open air buffet dining at its most delicious. Breakfast -start with champagne and orange juice...its your vacation. Breakfast features an array of fresh fruits, freshly baked breads and pastries, and made to serve omelets. For lunch and dinner, our salads and fresh seafood are a must. Desserts are out of this world!
Beach Grill & Heliconia
LUNCH/DINNER - Feast on casual fare featuring grills, salads and Jamaica delights' during the day at the Beach Grill.
Sample grilled specialties and Mediterranean cuisine at night, under the stars, at Heliconia.
Lychee
Dinner: 6:00pm to 9:15pm, closed Mondays.
Experience a taste of Asia served in a casual chic ambiance. With a view to the open kitchen, watch our chefs create your favorite dishes.
Otaheite
DINNER - Otaheite, named after the Jamaican apple, denotes the quintessentially authentic Caribbean dining experience in an intimate and elegant setting.
Dinner: 6:15pm to 8:45pm, closed Thursdays
Reservations: Required
back to top