BEACH RESORT MAP
Click on resort name for additional photos and information from our 23 years experience in Negril

CLIFF RESORTS MAP
Click on resort name for additional photos and information from our 23 years experience in Negril since 1998

Need Airport Transfers?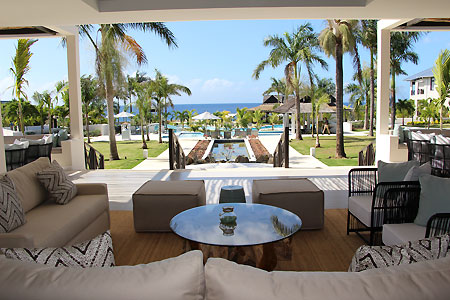 The Cliff Hotel

Rooms, Suites, Villas, Sea View, Pool, Spa, Free Wifi, All Inclusive Optional, Breakfast Optional, Water Access, Cliff Resorts
Perched on the westernmost edge of Jamaica, The Cliff Hotel is a luxury resort overlooking the cliffs of Negril.
It offers 33 luxury suites and villas, perfect for romantic getaways, honeymoons and weddings.
All accommodations offer views of the beautiful Caribbean Sea and glorious sunsets.
Featuring a spectacular free form pool, sea pool, two restaurants, three bars, and beautiful tropical gardens.... the perfect vacation getaway.
The Cliff Hotel

Imagine 5 acres of understated luxury, lifestyle, attentive but unobtrusive service
all overlooking the dramatic black coral cliffs of Negril Jamaica to the sparkling azure Caribbean Sea
......The Cliff Hotel and Spa offers all that and more!
Located in the west end, this gated secure property offers a relaxing retreat experience yet is close enough to experience the entertainment and casual vibe of Negril.
The Cliff Hotel and Spa features 33 modern upscale suites including two one bedroom cottages, one four bedroom cottage and one five bedroom cottage.
The spectacular and spacious free form pool with ample decking and comfortable loungers offers the perfect spot to swim, relax and socialize.
Swim right up to the pool bar. Enjoy tropical beverages as well as light snacks at the bar.
Pool Bar – Opening Hours: 10 a.m. – 6:00 p.m.

Gift Shop: Open: 9:00 a.m. – 6:00 p.m.
Children of all ages are welcomed at The Cliff.
Free secure parking
Pre-Arrival Concierge Service
Why wait until you're here to plan your itinerary?
Our pre-arrival concierge service allows you to make the most of your stay by planning those intricate details that will make your stay with us even more memorable.
Included Amenities:
•Twice daily housekeeping service • Bath amenities and natural Jamaican soaps • Yoga and other wellness activities • Use of fitness centre • Snorkeling • Cliff Jumping • Weekly Sunset Cocktail Hour • Morning coffee in the lobby.
Watersports; please enquire at the Front Desk
Snorkeling
Deep Sea Fishing
Half and Full Day trips
Scuba Diving
Water Taxi to Negril's 7-Mile Beach
Dining – Zest - the Restaurant on the cliff
Opening Hours: Breakfast 7:30 a.m. – 10:30 a.m.; Lunch noon – 3 p.m.;
Dinner 6:30 p.m. with the last seating at 9:30 p.m.
Cuisine: Chef Cindy's Cuisine of The Sun
A feast for the senses awaits at the restaurant.
Palates of both the simple and sophisticated will be satisfied at The Cliff.
Enjoy the award-winning restaurant experience provided by the food and beverage team of Delius Shirley and Executive Chef Cindy Hutson.
Delius Shirley, son of the famed Jamaican chef and restaurateur Norma Shirley, continues his mother's incomparable dining legacy.
Award-winning chef Cindy Hutson will tantalize your taste buds with her seasonally- driven "Cuisine of the Sun".
Together they create the perfect balance between an amazing world cuisine, impeccable service and a breathtaking view overlooking the pristine Caribbean Sea. There is no better way to enjoy a mesmerizing Negril sunset than sipping a signature 'Cliff Hanger' cocktail or one of the many libations Shirley and his mixologists have created.
Dress Code: Evening wear attire is requested in the restaurant from 7p.m. This includes: long pants, un-ripped jeans, collared shirts for gentlemen. No shorts, base ball caps nor t-shirts are allowed.
Meal Plans Available - booked at hotel
Guests may choose to purchase Breakfast meal plans or All Inclusive meal plans for use during their stay.
The following fees apply:
$20 per adult/day for breakfast - $150 per adult/day for all-inclusive meals and drinks
In-Room Dining
If you wish to dine in the comfort of your suite or cottage, our in-room dining is ideal for you. Our extensive in-room dining menu is prepared with the same care and presentation by our culinary experts. In-room dining is available daily from 7:30 a.m. – 10:30 p.m.
Bars
Day and night, the bars at The Cliff are places to meet new or catch up with old friends or simply relax and unwind. Our affable and talented bartenders serve up your favourite classics and create new mixes to invigorate the taste buds.
Cliff Bar
On the water's edge of the Negril cliffs, The Cliff Bar is the perfect setting to take in the sights and sounds of the turquoise waters. Open from 10:30 a.m. to midnight daily, the bar is lively, serves the best mixes and is a beautiful spot to watch the evening's sunset.
Pool Bar
Set among the lush landscaped gardens around the leisure pool, the Poor Bar is the perfect place to start your opening round at The Cliff and enjoy light snacks and your favourite mixes, The Pool Bar is open daily from 10:30a.m. to 6 p.m.
Zest Bar
For many guests, the evening begins at the Zest Bar. enjoying the glorious sunset while sipping creative cocktails in preparation for dinner. Zest Bar is open daily from 6:30 p.m. to 10:30 p.m.
BODY – MIND – TIME TO CENTRE YOURSELF
Discover your Zen at The Cliff with our private one-on-one yoga sessions and customized instruction from our experienced therapists. Our personal Negril yoga center and wellness retreats are suitable for beginners and experienced yogis alike, as our sessions are tailored to the individual's skill level and goals.
Sunrise a.m. Yoga
Sunset p.m. Yoga,
Sunrise Meditation
Sunset Meditation
Private Yoga Instruction – by appointment
Personal Fitness training – by appointment
Activities
World class spa
State-of-the-art fitness center
Yoga
Pool tables
Nintendo Wiis
Bocce
Snorkeling & cliff jumping (weather permitting)
Sports bar with satellite TV
Pool side food service & bar service
Accommodations
Suites
Complimentary high speed internet with Wi-Fi
Hammocks
Air Conditioning
In-room safe
Magnified shaving mirrors
Blow dryer in bathrooms
Connecting rooms on request
Cable Television
Direct-dial Telephone with voicemail
Housekeeping service including turn-down service
The Cliff branded amenities
Junior Suite (16 units)
The Junior Suites at The Cliff are elegantly appointed, comfortable and spacious. Located on either the ground or first floor with a private verandah with furnishings to include a hammock, these suites have direct views of the stunning Caribbean Sea. Junior Suites are charming with modern warm wooden furnishings and amenities which add to the appeal.
Maximum occupancy: 2 persons; Size: 480 square feet
Deluxe Junior Suite (2 units)
Deluxe Junior Suites are simply unique and offer a contemporary feel with fabulous sea views and beautiful sunsets. These units are styled with delightful interiors and offer a private expansive verandah with furnishings including a hammock ideal for relaxation, a spacious bedroom, living area and bathroom. Fine furnishings create an atmosphere to make these suites your home-away-from-home.
Maximum occupancy: 3 persons; Size: 600 square feet
One Bedroom Suite (4 units)
A collection of suites with a beautiful blend of wooden furnishings and crisp Jamaican influences, the One Bedroom Suites at The Cliff are both elegant and comfortable offering the view of the turquoise waters of the Caribbean Sea which can be seen from either of the two terraces. Each suite comes with a large living room furnished with a plush sofa, chic bedroom, spacious bathroom and modern amenities that are ideal for relaxation.
One bedroom suites can be connected to Junior Suites to form a two bedroom unit which would comfortably accommodate four.

Accommodations
Villas
Complimentary high speed internet with Wi-Fi
Iron
Ironing Board
Hammocks
Air Conditioning
Magnified shaving mirrors
In-room safe
Blow dryer in bathrooms
Cable Television
Coffee Maker
Miniature Refrigerator (Not stocked)
Direct-dial Telephone with voicemail
Housekeeping service including turn-down service
The Cliff branded amenities
Villa 1 ( 1 unit)
The ultimate in luxury and elegance, this cottage is ideal for couples who desire an intimate setting.
It comprises a sitting room, bedroom, bathroom and private patio. The bedroom is designed with romance in mind: a four-poster bed, luxurious and stylish furnishings and the ever-present sea breeze that bounces off the balcony make it easy to relax, revitalize and feel pampered while on your romantic retreat.
Villa One also features a tub in the courtyard.
Sunsets are best watched from the private verandah.
Maximum occupancy: 2; Size: 1050 square feet
Villa 2 ( 1 unit)
Villa Two is one-bedroom, two-storey accommodation offering a sophisticated blend of privacy, luxury and service. Inspired by Jamaica's diverse culture, subtle tropical hues are combined with tasteful modern wooden furnishings for an understated look that embodies residential elegance and romance.
A courtyard that leads to a spacious living room furnished with all the amenities of home.
With a spacious living area on the ground floor, Villa Two creates the atmosphere for ultimate relaxation. The private master bedroom contains a spacious bathroom and a terrace perfect for watching the dramatic Caribbean Sea and sunsets.
Maximum occupancy: 2 persons; Size: 1200 square feet
Villa 4 ( 1 unit)
A haven of tranquility, Villa Three has four bedrooms each with their own keyed entrance and facilities (en suite bathrooms, hammocks on terraces, direct dial telephone, wireless internet access, cable television, air conditioning, safe, bath robes etc.).
Impeccable walkways lead to the verandah of this villa which opens up to a capacious sitting area ideal for gatherings and lounging. Guests can also enjoy light snacks and beverages from the bar while entertaining each other.
Guests will have the option of stocking and pre-paying for their preferred snacks and beverages prior to arrival.
One bedroom is on the lower floor with the remaining three bedrooms, including a grand master bedroom on the upper storey.
Furnishings are elegant and replicate opulence and décor is deliberate to make you want to return to this Villa and make it your home-away-from-home.
There is also an outdoor tub in the courtyard of Villa Three.
Beautiful views of the Caribbean Sea and panoramic sunset add to the appeal of this Cottage.
Maximum occupancy: 8 persons; Size: 4200 square feet
Villa 5 ( 1 unit)
This stately five bedroom, classically-designed Villa offers the finest in resort living.
Tucked away behind beautiful gardens with direct views of the ocean, Villa Four provides an ambiance that's cool, calm and restful.
The entrance leads from an expansive verandah only footsteps from the cliffs and Caribbean Sea and opens up to a grand air-conditioned living area with comfortable sofas, television and a bar, which can be stocked and preferred items paid for prior to arrival.
On either side of the living area are two of the bedrooms each with private patios. Upstairs in this magnificent cottage are the remaining three bedrooms with an elaborate master bedroom.
Each guest room is cozy and has its owned keyed entrance and facilities (en suite bathrooms, patio furnishings including hammocks on terraces, direct dial telephone, wireless internet access, cable television, air conditioning, safe, bath robes etc.)
There is an outdoor tub in the courtyard of Villa Four.
The high ceilings add to the luxurious feel making this Villa one of the most endearing at The Cliff.
Villa Four is ideal for intimate wedding ceremonies and receptions.
Maximum occupancy: 10 persons; Size: 5000 square feet
Suites from Villa Four and Five
Guests who desire the villa experience but do not want to reserve an entire Villa may book a Suite from the four and five bedroom Villa.
Both Master and Single Suites can be formed from these Villas.
Suites have showers and Master Suites have a bathtub with shower and more space.

back to top