BEACH RESORT MAP
Click on resort name for additional photos and information from our 23 years experience in Negril

CLIFF RESORTS MAP
Click on resort name for additional photos and information from our 23 years experience in Negril since 1998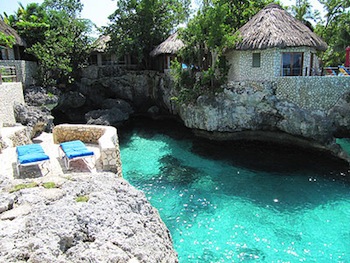 Rockhouse Hotel

Villas, Suites, Rooms, Pool, Eco-friendly, Free Wifi, Spa, Yoga, Weddings, Water Access, Snorkeling, Restaurant, Sea View, Air Conditioning, Bars, In Room Safe, Mini Fridge, Ganja Friendly, 420 Friendly, Cannabis Friendly, Cliff Resorts
Rockhouse is a casually chic boutique hotel resort perched upon the scenic cliffs of Negril's Pristine Cove in Jamaica, overlooking the serene waters of the Caribbean sea.
Winner of "Caribbean's Leading Boutique Hotel" at the 2014 World Travel Awards, the property sits on eight acres of lush, tropical gardens and features world-class dining, spa and wellness programs that celebrate the abundant culture and resources of Jamaica.
Rockhouse Hotel Restaurant
Rockhouse Resort Restaurants
The hotel is home to three of Jamaica's most talked-about restaurants, Rockhouse Restaurant, Pushcart Restaurant & Rum Bar, and the Pool Grill & Bar, as well as a fresh juice bar.
Dining at Rockhouse offers a variety of renowned island cuisine ranging from the internationally celebrated, stunningly romantic Rockhouse Restaurant, to the vibrant spices and flavors of authentic Jamaican home cooking at Pushcart Restaurant & Rum Bar.
The restaurants and juice bar feature the very best fresh, local, and seasonal ingredients, with produce grown in the Rockhouse Organic Garden, located on the property.
Restaurant
Celebrated as Negril's premiere fine-dining destination and one of the most renowned restaurants in Jamaica, Rockhouse Restaurant is perched on volcanic cliffs jutting above the brilliant waters of the appropriately named "Pristine Cove."
The restaurant features new Caribbean cuisine – a lighter, modern interpretation of classic Caribbean cooking incorporating local and tropical ingredients and flavors.
Serving breakfast, lunch, and dinner, the environmentally conscious design blends harmoniously with the breathtaking surroundings and creates a welcoming, romantic, and serene atmosphere any time of day.
Open daily from 7am to 10pm.
Room service is also available during these hours.
Juice Bar - Organic, Local and Fresh
Stay healthy and refreshed with our delicious organic, local, and fresh juices made daily.
The Juice Bar features our Rockhouse Green Juice, exploding with anti oxidants from callaloo and pak choy grown in the Rockhouse Organic Garden, detoxifying Jamaican Beet, our most popular juice and a great blood purifier, hydrating coconut "wata" served in the shell, fresh watermelon, pineapple and orange juices, and invigorating ginger and aloe shots.
Pushcart - Restaurant and Rum Bar
Our modern version of the classic Jamaican "Jerk Centre," Pushcart serves up a full spectrum of the island's traditional fare in a lively, colorful, and music-filled outdoor atmosphere.
Enjoy perfectly smoked and seasoned chicken, pork, and fish straight off the jerk pan grill, served with all of the classic fixings of "yard" cuisine. Pushcart takes guests on a culinary tour of the island, with dishes like peppered shrimp (inspired by roadside vending in Middle Quarters, St. Elizabeth where vendors rush your car with flavorful hot peppered shrimp in clear plastic bags), steamed fish with bammy (what vendors offer in Port Royal), and homemade jerk sausage (made famous by Jamaica's "jerk center" at Boston Bay, Portland).
The menu also features other traditional Jamaican home cooking fare such as curried goat, oxtail and fried chicken.
Join us nightly for live entertainment, filled with technicolor and dancehall-inspired visuals courtesy of renowned local and international artists, and strong tropical libations featuring our bar's vast selection of the Caribbean's finest rums.
Open Daily from 4pm to 10pm.

Pool Bar and Grill
Ultimate vacation bliss awaits you at our Pool Bar & Grill.
Lounge poolside while enjoying a tasty lunch of jerk chicken, grilled snapper sandwich or the Rockhouse burger, grilled on an open jerk pan.
Experience the breathtaking views from the pool deck and stay for the memorable Jamaican sunset while sipping signature Rockhouse cocktails. 2-for-1 Happy Hour from 5pm to sunset.
The Pool Bar & Grill is open daily for lunch from noon until 4pm, and for beverages from 11am to sunset.
back to top