BEACH RESORT MAP
Click on resort name for additional photos and information from our 23 years experience in Negril

CLIFF RESORTS MAP
Click on resort name for additional photos and information from our 23 years experience in Negril since 1998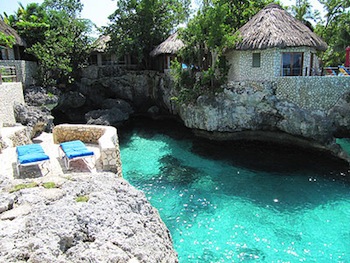 Rockhouse Hotel

Villas, Suites, Rooms, Pool, Eco-friendly, Free Wifi, Spa, Yoga, Weddings, Water Access, Snorkeling, Restaurant, Sea View, Air Conditioning, Bars, In Room Safe, Mini Fridge, Ganja Friendly, 420 Friendly, Cannabis Friendly, Cliff Resorts
Rockhouse is a casually chic boutique hotel resort perched upon the scenic cliffs of Negril's Pristine Cove in Jamaica, overlooking the serene waters of the Caribbean sea.
Winner of "Caribbean's Leading Boutique Hotel" at the 2014 World Travel Awards, the property sits on eight acres of lush, tropical gardens and features world-class dining, spa and wellness programs that celebrate the abundant culture and resources of Jamaica.
Rockhouse Hotel Spa
Spa
Rockhouse Spa, the winner of the 2014 World Travel Award for Best Spa in Jamaica, offers incredible treatment experiences in an idyllic Caribbean setting.
We take a simple, holistic approach to wellbeing, health and happiness, with a natural Jamaica style.
Treatments take place in the cliff-edge spa cabanas or at the Rockhouse Spa Pavilion, an architectural and energetic temple nestled among tropical gardens, as well as our newest addition, the bathing pavilion overlooking the Caribbean Sea.
Our international spa consultant, Linda Hall is a guru of a holistic spa therapy philosophy with 30+ years of experience in the UK, Asia, US and the Caribbean. Linda works with our certified therapists to stay current on the latest techniques, treatments, equipment and products.
The Rockhouse Spa is the first to feature the Caribbean Essentials Spa Collection featuring all natural, Caribbean-made products and treatment rituals.
Massage
Rockhouse Spa offers an ever expanding variety of massages that will satisfy our most discerning guests. Our massages will revitalize, relax, stimulate or sedate you, whichever rubs you righter!
The Signature Tropical Massage is a fusion of three powerful massage techniques; combining healing herbs, aromatherapy oils, hot poultice, bamboo and warm stones.
Additionally Rockhouse offers a full range of individual massage treatments including Aromatherapy, Swedish, Deep Tissue, Hot Stone, Pregnancy and Sports Massage.
Scrubs & Wraps
Our therapeutic scrubs and wraps contain only the finest natural, indigenous ingredients, including tropical fruits, brown sugar, ginger, honey, cucumber, Blue Mountain Coffee, cocoa, sea minerals, delicious revitalizing butters and more. These invigorating treatments will give you energy and restore your equilibrium.
Try our signature scrub, the Island Mint Tea, a powerful immune system booster, which soothes and elevates your mood.
We recommend a revitalizing wrap after an exfoliating scrub. The most popular wrap is our Jamaica Mocha / Rum Wrap where honey, mango, hemp, cocoa, rum and shea butter are swirled together with patchouli, orange and cinnamon to warm and stimulate your skin.
Hollistic Mind, Body & Beauty Therapies
Rockhouse offers a full range of holistic mind, body and beauty therapies including Table Thai (Nuat Thai), Herbal Poultice Massage (Luk Pra Kope), the Deep Healing Back Ritual, Shirodhara and our Steamy Wonder sauna experience. For the feet we offer Reflexology, Aqua Detox pedicures, Hot Stone pedicures and our signature Foot Ceremony.
We also offer a wide range of beauty therapies including the Rockhouse Rejuvenating Facial and the Facial Lift, the Rockhouse Deluxe Manicurel make-up, hair and Scalp Therapy; and hair treatments including blowouts and braiding.
back to top