BEACH RESORT MAP
Click on resort name for additional photos and information from our 23 years experience in Negril

CLIFF RESORTS MAP
Click on resort name for additional photos and information from our 23 years experience in Negril since 1998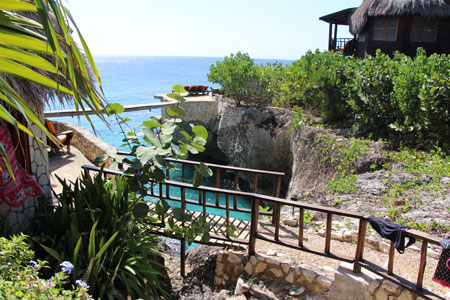 Tensing Pen

Rooms, Cottages, Villas, Pool, Free Wifi, Weddings, Sea View, Restaurant, Air Conditioning, Continental Breakfast Included, Mini Fridge, Full Kitchens, In Room Safe, Water Access, Snorkeling, Yoga, Hair Dryers, Irons, Cliff Resorts
Overlooking the turquoise Caribbean Sea, Tensing Pen's unique collection of wood, thatch, and cut-stone cottages pampers body and soul in simple but elegant comfort.
At Tensing Pen you can vacation in style and relax to your bodies content while you enjoy gourmet meals, tropical favorites at the bar or pool and exceptional service.
A good continental breakfast is included.
Stay at this special Negril, Jamaica resort and you will experience why they are a recipient of TripAdvisor Certificate of Excellence
for the past 5 years.
Tensing Pen Photos
The Long House
Red Birch Cottage
South House 1 (downstairs) and 2 (upstairs)
These are two spacious private units with King beds, A/C in both units, and large seaview balconies.
Rock Cottages
Rock Cottage 2
Cove Cottage
The Cove Cottage is a romantic guest room with beautiful French Doors opening to the patio.
The Pillars
All the pillar houses are designed as tree houses with verandahs offering stunning views of the Caribbean Sea.
South Pillar Interior and View
Pine Pillar Interior and View
SeaGrape 1 and 2
SeaGrape 1 and 2 are situated on a small cove on the Tensing Pen property.
The Patio Cottage
The Garden Rooms and Studio
The Garden Studio
Located above Garden A & B, this spacious unit has a soaring thatch ceiling, large bath, and generous verandah with sea view.
The Bungalow
Bungalow is a bright and airy cottage with queen bamboo bed, large bath with rain shower, and generous verandah surrounded by tropical vegetation.
The Garden Cabin
Restaurant, Bar and Lounge
The Pool and Snorkeling Coves
Yoga
Property Map
back to top