BEACH RESORT MAP
Click on resort name for additional photos and information from our 23 years experience in Negril

CLIFF RESORTS MAP
Click on resort name for additional photos and information from our 23 years experience in Negril since 1998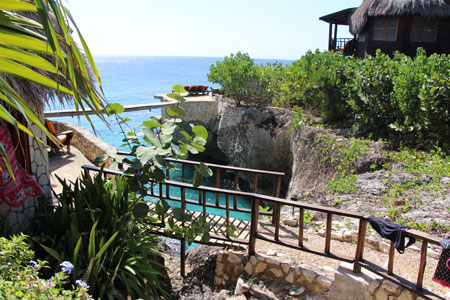 Tensing Pen

Rooms, Cottages, Villas, Pool, Free Wifi, Weddings, Sea View, Restaurant, Air Conditioning, Continental Breakfast Included, Mini Fridge, Full Kitchens, In Room Safe, Water Access, Snorkeling, Yoga, Hair Dryers, Irons, Cliff Resorts
Overlooking the turquoise Caribbean Sea, Tensing Pen's unique collection of wood, thatch, and cut-stone cottages pampers body and soul in simple but elegant comfort.
At Tensing Pen you can vacation in style and relax to your bodies content while you enjoy gourmet meals, tropical favorites at the bar or pool and exceptional service.
A good continental breakfast is included.
Stay at this special Negril, Jamaica resort and you will experience why they are a recipient of TripAdvisor Certificate of Excellence
for the past 5 years.
Tensing Pen Spa
Tensing Pen Spa
Spa, Salon and Wellness
Massage services are offered in our new massage hut on the far north side of the property.
Gentle ocean breezes glide across your body as our trained therapists help you to de-stress and truly relax into your vacation.
Salon treatments such as manicures, pedicures, facials and hair styling may be arranged in the privacy of your cottage.
Spa Treatments (Prices and Services subject to change without notice)
Massage
Full Body Swedish Massage - (1hr) $70US
Full Body Deep Tissue Massage - (1hr) $85US
Back Relaxation Treatment - (1.5 hr) $40US
After Sun Aloe Vera Massage - (1hr) $85US
Reflexology Therapeutic Foot Massage - (1 hr) $ 70US
Japanese Hot Stones Massage - (1HR) $110US
Four Hands Ultra Body Massage - (1HR) $120US
Couples Massage - (1hr/ 2 persons) $140US
Body Scrubs
Body Scrub with Sea Salt and Apricot - (1hr) $75US
Body Scrub with Brown Sugar & Coco Butter - (1 hr) $75US
Facials
Facelift Massage - (1hr) $85US
Total Relaxation Facial - (1 hr) $75US
Cleansing Facial with Mud and Spices - (1hr) $85US
back to top