BEACH RESORT MAP
Click on resort name for additional photos and information from our 23 years experience in Negril

CLIFF RESORTS MAP
Click on resort name for additional photos and information from our 23 years experience in Negril since 1998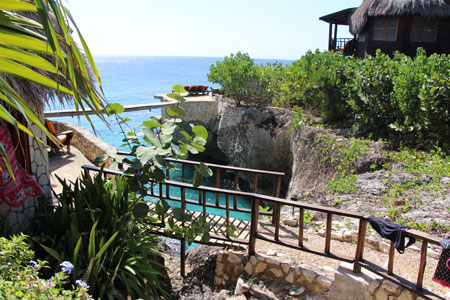 Tensing Pen

Rooms, Cottages, Villas, Pool, Free Wifi, Weddings, Sea View, Restaurant, Air Conditioning, Continental Breakfast Included, Mini Fridge, Full Kitchens, In Room Safe, Water Access, Snorkeling, Yoga, Hair Dryers, Irons, Cliff Resorts
Overlooking the turquoise Caribbean Sea, Tensing Pen's unique collection of wood, thatch, and cut-stone cottages pampers body and soul in simple but elegant comfort.
At Tensing Pen you can vacation in style and relax to your bodies content while you enjoy gourmet meals, tropical favorites at the bar or pool and exceptional service.
A good continental breakfast is included.
Stay at this special Negril, Jamaica resort and you will experience why they are a recipient of TripAdvisor Certificate of Excellence
for the past 5 years.
Tensing Pen Weddings
Arrangements Prior To Arrival
At least 3 weeks before arrival in Jamaica, both parties must submit via Fax to Tensing Pen:
1. Copies of each person's passport and driver's license.
2. Birth Fathers' entire names, each person.
3. Each person's professions/occupations.
4. Present marital status, i.e.: bachelor, spinster, widowed, divorced.
5. If widowed or divorced, include certified copies of legal documents to vouch for current legal status.
6. Young people under 21 must produce written consent from a parent, signed by a notary.
All details for your wedding can be arranged at Tensing Pen.
Marriages must take place before sunset on your designated day,
and both parties must be on the island at least 24 hours before the ceremony.
The $900.00 package covers a two person wedding only (ceremony on site, no guests) and includes:
Tensing Pen has a basic package at the costing of US$900 which includes the following :
The assistance of a wedding coordinator
Ministers fees and all official paperwork
A Decorated location
Tropical Bridal Bouquet ( Bride can choose color scheme)
Boutonniere
7" Wedding Cake with fresh flowers ( guest choose between a chocolate or
vanilla cake )
A bottle of House Sparkling Wine
Twenty five (5x7) photos
Tensing Pen can also arrange everything from flowers, food, refreshments, music, and photographer.
Just let them know how many are in your party, and how you would like to celebrate.
Renting the Whole Property
Tensing Pen is a small, intimate property directly located on the Caribbean Sea consisting of 13 double occupancy rooms, 1 house accommodating 3-4 persons (one king, two full beds), 1 house accommodating 4 persons (two king rooms), 1 house accommodating 2-3 persons (one queen, one single), and a Long House which has 2 King bedrooms and one bedroom with 2 full beds, and a day daybed to accommodate 6 persons maximum.
This means the entire property can accommodate 43 persons, at full occupancy.
The 13 double rooms will not accommodate extra beds, so must be rented for 2 persons sharing one queen bed, or as singles.
Tensing Pen Resort Hotel, Negril, Jamacia, is nestled on a private cove, surrounded by lovely tropical vegetation and flowers. There are many little areas to get away and be very private or larger spaces for groups to come together. There are no telephones or televisions in the rooms, offering a truly restful experience. Rooms are cooled by A/C or ceiling fans and lovely ocean breezes. All rooms have small refrigerators. Telephone and WIFI access. Cold beverages, including beer and wine, are available from our bar or gift shop. Gift shop offers many exquisite local crafts, resort attire etc.
back to top