BEACH RESORT MAP
Click on resort name for additional photos and information from our 23 years experience in Negril

CLIFF RESORTS MAP
Click on resort name for additional photos and information from our 23 years experience in Negril since 1998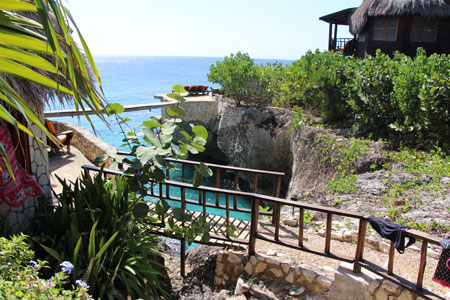 Tensing Pen

Rooms, Cottages, Villas, Pool, Free Wifi, Weddings, Sea View, Restaurant, Air Conditioning, Continental Breakfast Included, Mini Fridge, Full Kitchens, In Room Safe, Water Access, Snorkeling, Yoga, Hair Dryers, Irons, Cliff Resorts
Overlooking the turquoise Caribbean Sea, Tensing Pen's unique collection of wood, thatch, and cut-stone cottages pampers body and soul in simple but elegant comfort.
At Tensing Pen you can vacation in style and relax to your bodies content while you enjoy gourmet meals, tropical favorites at the bar or pool and exceptional service.
A good continental breakfast is included.
Stay at this special Negril, Jamaica resort and you will experience why they are a recipient of TripAdvisor Certificate of Excellence
for the past 5 years.
Tensing Pen

Tensing Pen in Negril Jamaica is a casual chic resort/hotel with outstanding sea views to the sparkling azure Caribbean Sea.
You will feel pampered by the friendly accommodating staff, enjoy serenity and privacy, dine on wonderful food, yet never be far from all the exciting entertainment and activities available in Negril.
Most resorts in Jamaica have large pools, crowded lobbies, and sometimes hundreds of rooms. However, at Tensing Pen, we choose quality over quantity.
Each room is unique, and the location is secluded.
The rooming arrangements consist of high end stone, wood, and thatch cut cottages that really allow you to embrace the Caribbean lifestyle.
Overlooking the turquoise Caribbean Sea this boutique resort pampers body and soul in simple but elegant comfort.
16 stylish rooms and cottages are located on the dramatic black coral cliffs of Negril's West End and set in a cultivated jungle of tropical vegetation.
Nestled in its own private little Jamaican cove, Tensing Pen offers a unique escape from the bustle of ordinary life.
Each simple but elegant cottage is unique and has its own private balcony or patio.
All rooms have refrigerators: ice and coolers provided upon request. Soft drinks, beer and wine available.
All of the rooms are TV and Phone free, because it's your time to sit back, relax, and let Tensing Pen treat you as their guest. However, if internet or a phone is needed, these items are readily available at the front desk.
Safes in all rooms, $100 refundable key deposit collected at check-in
Pool - seaview with shaded loungers
Wi-Fi is FREE and is available throughout property
Comfortable chaise lounges and tables & chairs are located in private settings around the property for sunning and quiet retreats.
Enjoy snorkeling and swimming in the crystal clear waters of the private cove.
The Lodge Restaurant offers sumptuous meals, breakfast, lunch and dinner
Many restaurants are within walking distance or a short cab ride away.
Massage - enjoy a relaxing massage in the ocean air with a trained massage therapist who can work away your stress in just an hour. Extra charge for this service.
Yoga - many guests enjoy the art of yoga in a special sea view yoga space that will bring you closer to Nirvana. Yoga sessions at 4:30 p.m. are $15. Private instruction can be arrange at a cost of $60.
Fitness Club - ask the staff about special arrangements with local fitness clubs.
Snorkeling gear available for guests use.
Beach towels provided.
Hair dryers available on request
Clothing Irons in each room
Toiletries provided (soap/shampoo/hand lotion)
Children under 12 yrs stay free with parents if sharing the same bed.
If cot is required a charge of $50. + 20% per night is added.
Cot is permissible in South House 1 & 2, Garden Studio, Pine Pillar, Sea Grape 1 & 2 and Rock Cottage 2.
Dining
The Lodge: Tensing Pen's open-air main dining house brings guests together in an intimate setting overlooking the blue Caribbean sea. Excellent cuisine and spectacular sunsets await you!
For lunch and dinner, choose from a variety of items done to order using the finest and freshest of ingredients.
Fresh caught fish, grilled lobster (in season) and traditional Jerk Chicken are standard fare at Tensing Pen in Jamaica.
Lunch: 12 noon - 2:30 PM
Dinner: 6 PM - 9 PM
(Call ahead while in Jamaica to make a reservation)
Complimentary pick-up from 5 PM - 8 PM from Negril area hotels and villas.
Complimentary Continental Breakfast is served daily in the main dining house and includes such indulgences as fresh tropical fruits, blue mountain coffee, cereals, toast and local jams. Other breakfast items available at nominal extra charge.
For dinner, the Chef prepares Jamaican-style feasts using the finest ingredients and organically grown vegetables.
Daily menus change depending on the seasonal ingredients and local grilled lobster, sweet curried Black River Shrimp, fresh caught fish and traditional jerk chicken are standard fare at Tensing Pen.
Vegetarian friendly menu
Accommodations/Cottages/Suites
Each unit at Tensing Pen is unique and features 4 poster beds, crisp linens, soft towels, modern bathrooms with shower, hand crafted furniture, tropical decor and private furnished verandas.
The Long House - is the largest and most accommodation quarters with 3 bedrooms, 2 full bathrooms and a powder room, living/ dining area, and full kitchen. A private cook can be arranged. The unit has 2 King bedrooms and one bedroom with 2 single beds. This cottage has A/C and ocean views.
Red Birch - This cottage with A/C has been divided into three one bedroom cottages. Cottage #1 has an ocean view. Cottage #2 has an ocean view and kitchnette. Cottage #3 has a Garden View
South House - This beautiful cottage has been divided into two separate units.
South House 1 is ground level. South House 11 is located on the upper level.
Both have modern bathrooms with shower, Mini refrigerators and A/C.
South House I is a spacious cottage located ground level with a large patio for a spectacular sunset and ocean view of Jamaica with two twin beds which easily convert to a king bed.
The South House II is a spacious cottage located upstairs with a king bed, A/C, a large balcony for a spectacular sunset and ocean views.
Rock Cottage 1-is a private cut-stone bungalow perched directly on the cliffs above the Caribbean with Queen Bed.(ocean view), A/C, mini refrigerator.
Rock Cottage 2 - this hideaway also has a spacious tiled veranda that looks out to the sea. King Bed.(ocean view),A/C, mini refrigerator.
Cove Cottage - is one of the most romantic guest rooms with beautiful French doors opening to the patio. Queen Bed.(cove/ocean view)
The Pillars - each of the four Pillar Houses is designed as a tree house with verandahs offering stunning views of the Caribbean Sea. All four Pillars have private outdoor showers downstairs, fan cooled, Queen Bed.(ocean view), mini refrigerators,
Pine Pillar -now with A/C - (1 only) is the largest of the 4 Pillars. It is designed to look like a tree house. It is larger than the other three Pillars (North, Middle and South). Pine Pillar has a king bed and a balcony with a panoramic view. It is perfect for relaxation and enjoying the breath-taking view of the Caribbean Sea.
SeaGrape I & 2 - now with A/C these separate upper and lower units are situated on a small cove on the property. King Bed, mini refrigerator and private furnished verandas with sea views.
The Bungalow - Bungalow is a bright and airy cottage with queen bamboo bed, large bath with rain shower, and generous verandah surrounded by tropical vegetation.
Garden Rooms - now with A/C 2 Garden Rooms with garden views ( two lower rooms with Queen Bed) are situated in one building amidst tropical foliage, both with A/C, mini refrigerator, bathroom with shower.
Garden A is the front of Garden Building with thatched roof veranda. Queen bed. ( garden view but faces ocean).
Garden B is the most economical room. Queen bed (garden view).
Garden Studio - now with A/C 1 upper/Studio with King Bed situated in same building as Garden Rooms set amidst tropical foliage. Studio with partial sea view. (No A/C)
Patio - now with A/C the Patio is a little Caribbean cottage tucked into a private rock garden with A/C. Queen + single day bed, mini refrigerator. (garden view)
Spa
Spa & Wellness Services At Tensing Pen
Massage services are offered in our new massage hut on the far north side of the property. Gentle ocean breezes glide across your body as our trained therapists help you to de-stress and truly relax into your vacation.
Salon treatments such as manicures, pedicures, facials and hair styling may be arranged in the privacy of your cottage.
back to top