BEACH RESORT MAP
Click on resort name for additional photos and information from our 23 years experience in Negril

CLIFF RESORTS MAP
Click on resort name for additional photos and information from our 23 years experience in Negril since 1998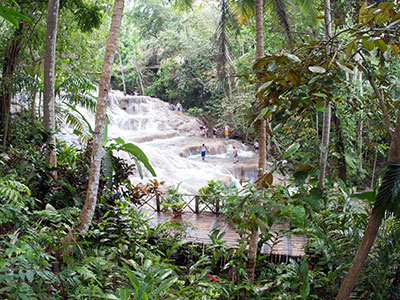 Dunn's River Falls

Private Tour, Scenic Tour, Lunch Provided, Entrance Fees Included, rates
Dunn's River Falls is one of Jamaica's national treasures. Globally, it is as well known as reggae and equally stimulating. There are few places where the Arawak name "Xayamaca" - land of rivers and springs - is more apt. The Spaniards called the area "Las Chorreras", the waterfalls or springs and it is truly one of the most beautiful spots on the island.
Dunn's River Falls Rates
DUNN'S RIVER FALLS RATES
All rates are in $U.S.
Rates INCLUDE private transportation, entrance fees, and lunch
Number of People/
Date
1 or 2 People
Extra Persons
Year Round
$295
$95
Duration: 8 hours

When visiting Dunn's River Falls please be sure to wear swimwear, aqua socks or just an old pair of shoes that you do not mind getting wet to shield your feet and avoid excess slipping when climbing the falls. Also remember to bring a waterproof camera.

Although the climbing area is usually crowded, the walk up the waterfalls is always lots of fun. The fall guides are very helpful in carrying cameras and they are sure to make time for photograph occasions. A lot of children make the climb up the waterfalls. However, age seven is probably a reasonable minimum age, depending how sturdy your child may be.

Cancellations:
A 10% credit card processing fee applies to any refund.
You will be emailed a receipt showing your refund for your records.
Banks may take 3-5 days for the refund to show on your bank statement.
No refunds for cancellations made within 24 hours of your tour.
You can change any transfer by phoning the number on your voucher
Rates subject to change without notice.
back to top